Yesterday we celebrated Tess's 4th Birthday with a Tangled-themed birthday party. Most of the things we did were handmade, so I thought I'd share them here.
I used almost an entire pound of yarn to make Rapunzel's hair. I strung it about 25 feet long and attached it to the light fixture at the front door, then drug it across the clock, around the shelves, up over the curtain rods, then it ended across the mantle.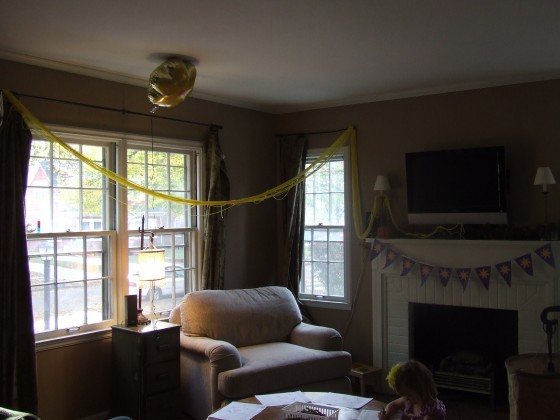 The flags were found at Paging Supermom. We printed out about 150 flags. Only four cuts were necessary to produce three flags, so it wasn't too hard or time consuming. I punched holes at the corners and ran some yarn through them to hang them up. I wanted it to look like the scene in the movie when Rapunzel goes to the kingdom and the flags are hanging EVERYWHERE. It looked pretty darn great, if I do say so myself.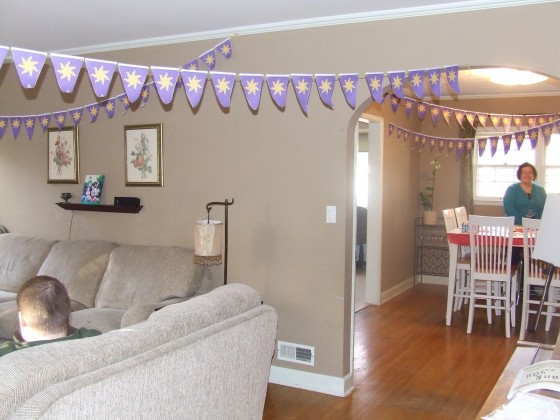 The movie Tangled centers around a magical golden flower that heals. I wanted to use yellow flowers somehow in our decorations, and when I found this flower at Wal-Mart, I knew it was exactly what I was looking for. It is an outdoor solar powered light that glows so prettily. With the curtains drawn just a bit in the dining room, this flower really glowed. Tess believes it's the real magic flower from the movie.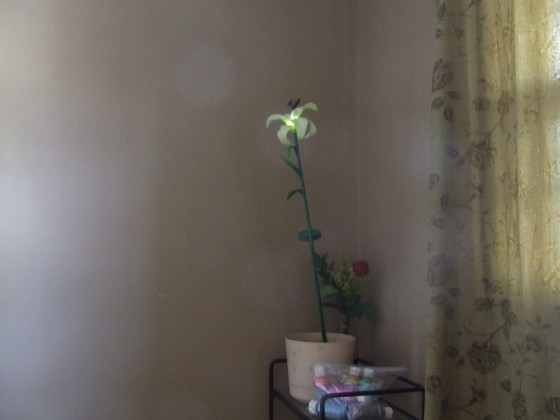 I wanted the children who came to the party to have something to take home, and since regular plastic goody bags are boring, I made "Flynn Rider Satchels" for the kiddos. This was SUPER easy. SUPER. EASY. I started with 3/4 of a yard of dark brown felt – using a 40% off coupon, of course – that was 72″ wide. Since there were 7 children coming to the party, I made each satchel 10-ish inches wide. Then I folded up the bottom third and pinned the sides, although you don't really have to do this. Felt is very sticky and pretty much stays where you put it. Then I cut a 1″ by 1″ square out of the bottom corners. Grab your sewing machine, sew a straight seam up the sides, pull out the bottom corners and sew across. Flip the satchel inside out, sew on a yard of strap at each corner. I ended up using brown webbing for the little fellas and some Disney-themed purple webbing for the little ladies. I don't know how long they'll last, but I made 7 satchels for less than $10, and the kids just seemed to love them. You could put some decorative stitching around the flap if you have a good, stable relationship with your machine.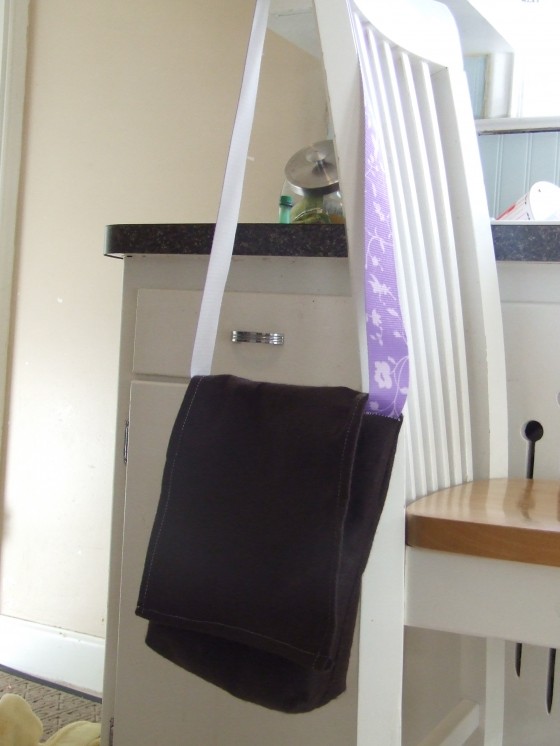 I wanted to stay away from candy for the kids, so I filled their satchels with usable, fun things. We made a 3D Pascal, found here.  Explore the website while you're there. They have some fabulous party ideas! Here's Tess making her Pascal: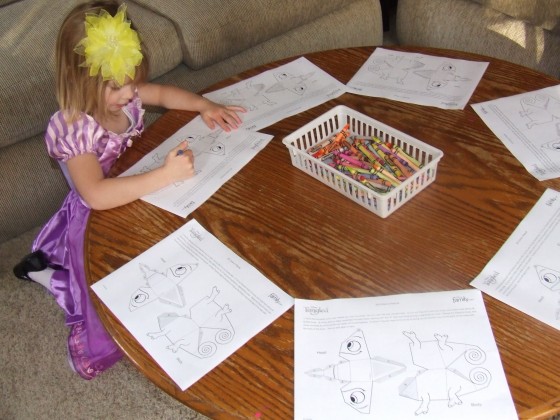 Here's Tess's 3D Pascal on her doll's head: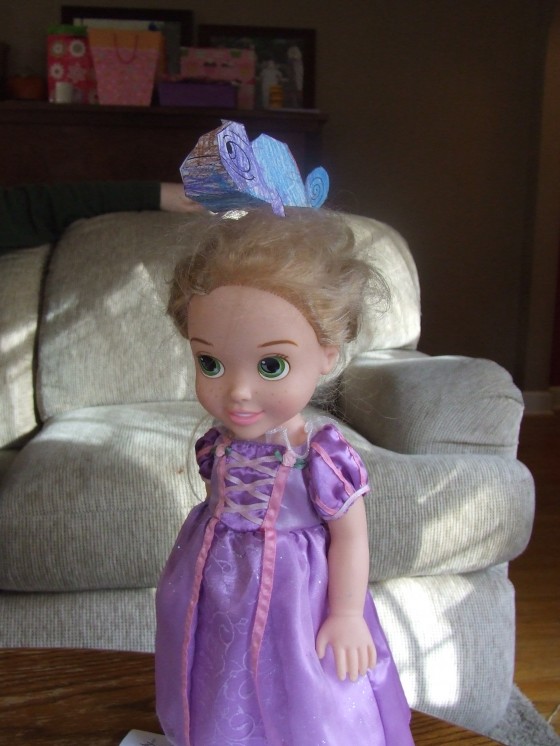 The next item in their bags were these activity kits. We made a cover sheet thanking the children for helping us celebrate.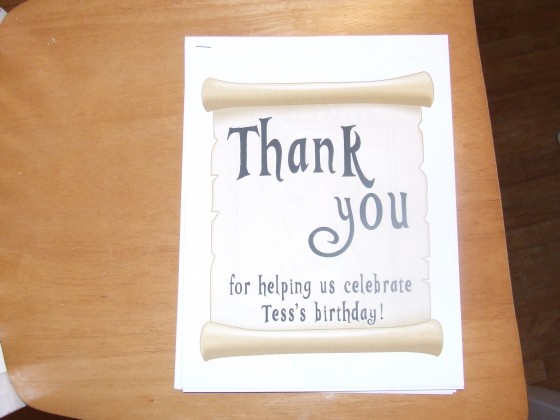 Mike created these fabulous inserts for the watercolors: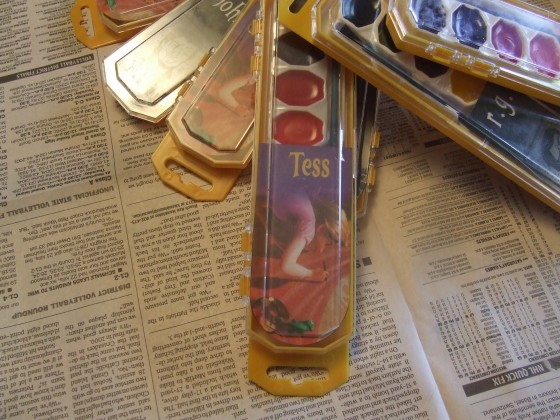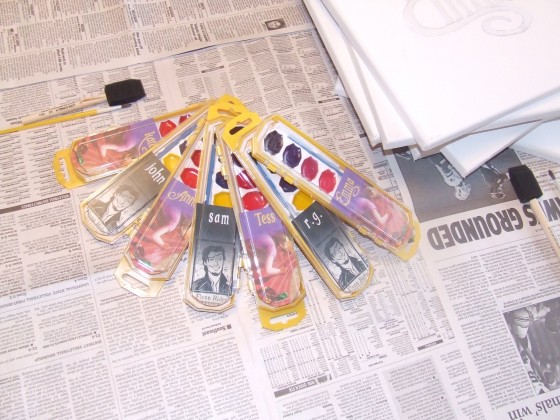 We made these Pascal blowers. They are also from Disney. I found the red blowers at the Dollar Tree. Score. I ended up using giant googly eyes also found at the Dollar Tree.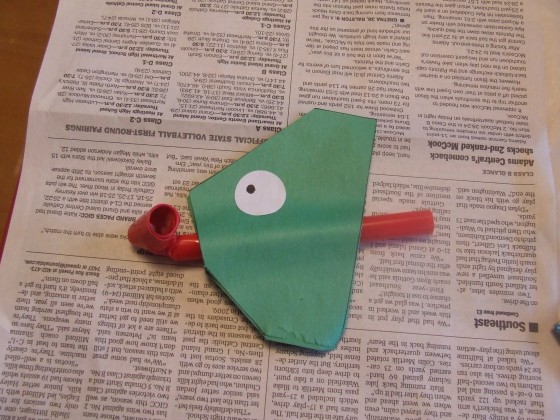 As the children arrived, they made their 3D Pascals. The kids colored for about 30 seconds, and it took about 4 minutes to cut out each one and glue it together. In hindsight, I would have had them cut out already.
After this, they painted on real canvases. I can't remember where I saw it, but somebody had the idea to put stickers on their canvas before they painted. I mean, have you ever seen a 3/4 year old's painting? Adorable, yes, but kind of a mess. Instead of stickers, I printed out and traced onto contact paper each child's name. It took an episode of Community, Parks and Rec, AND The Office to do this. My hand hurt. Bad. Once I cut them (ALL) out, I stuck them in the middle of a canvas for each child.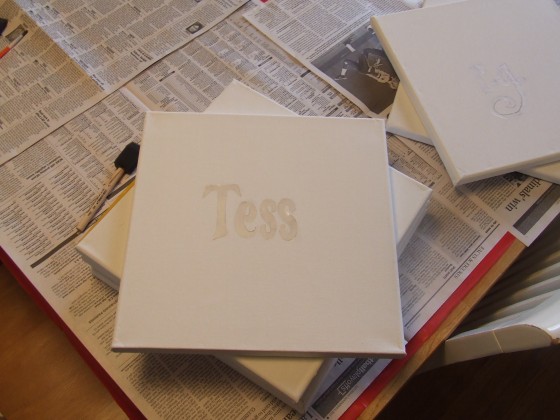 They painted until their hearts were content, and once they dried, I peeled off the contact paper names. There were only a few mishaps, and all in all, they turned out super fab. I don't have a picture of the finished product, but they were really cool. Trust me. Here are those adorable babies painting: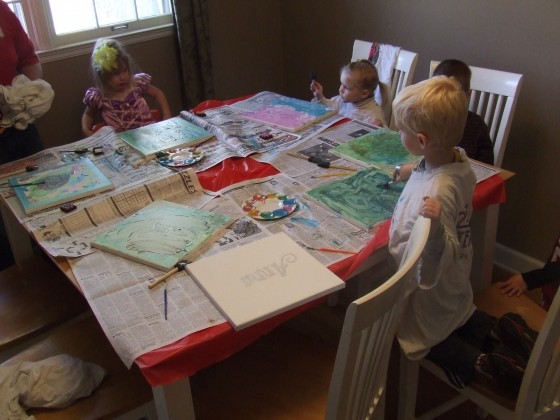 My awesome sister made a poster of Flynn Rider's face for me. It looked like the posters from the movie. She is talented. In the movie, each "Wanted" poster has a different nose for Flynn, so Sarah made up seven different noses and the children played "Pin the Nose on Flynn" like "Pin the Tail on the Donkey". It was so cute. I still have the poster in the dining room. It's too adorable to take down!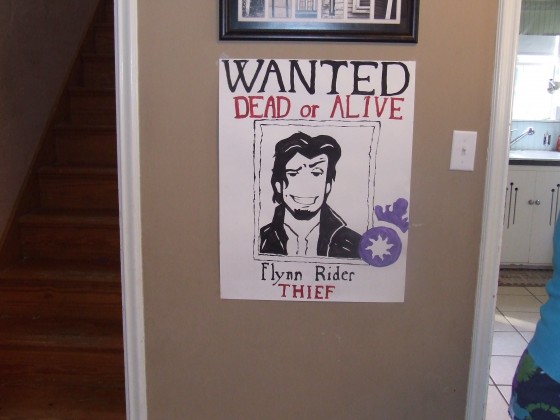 Of course, we had cake and sang "Happy Birthday".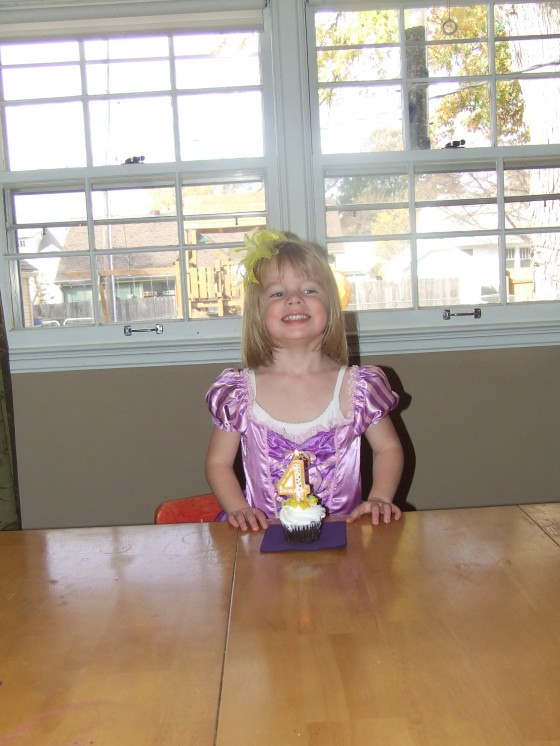 Her friends are silly and fun, just like she.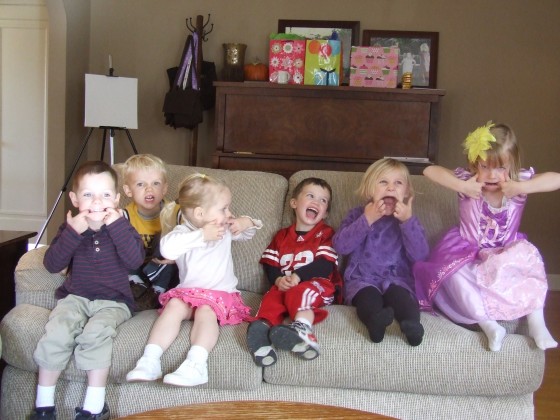 After we opened presents and the kids received their satchels, we drew with chalk as we waited for parents to arrive. After that, all of Tess's family and friends of the family came over and SHOWERED her with gifts.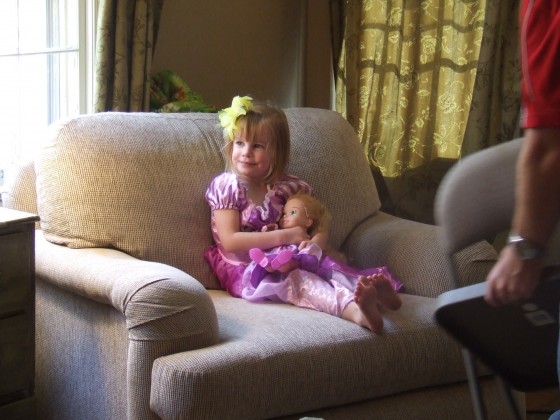 This morning we celebrated Tess with green! four-shaped! pancakes! Tess exclaimed, "I'm so four right now and I will be for 100 weeks!" And, yes, she DID pour her own syrup this morning. She IS four, after all.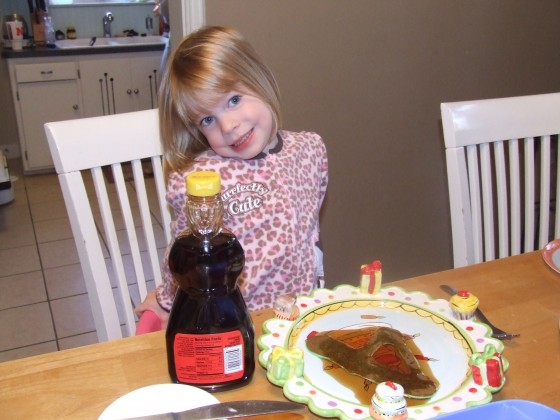 Happy Birthday, sweet Tess.