Two weekends ago we visited Mike's Uncle Doug and Aunt Scherry in "the country". We left bright and early in the morning and didn't come home until late at night. We picked fruit off of fruit trees and vegetables out of the garden. We rode on of their 24 horses, visited a farm house that they purchased in foreclosure a few years back. I'm in love with that property, by the way. It's 14 acres of the most beautiful land I've ever seen. It's got 4 or 5 out buildings/barns, a large garden, a place where a Summer Kitchen once stood, a 2 stall garage, a creek, a miniature forest, it's all fenced in and it has a 5 bedroom two story farm house to boot. I'm in LOVE, I tell you!
Here's some pictures from our adventure. Enjoy!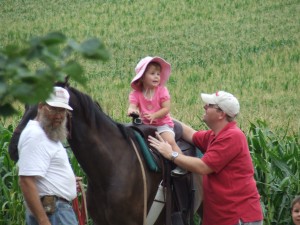 Elsie was the first to ride. Nobody's surprised, I'm sure.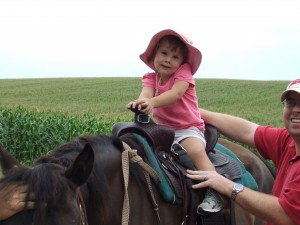 Elsie like being up there but didn't like that Daddy and Uncle Doug had to be there, too.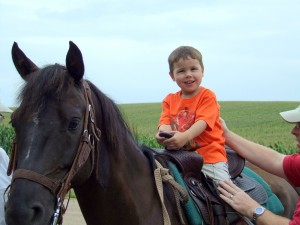 Pete was way less scared than I thought that he would be. He really liked being on the horse.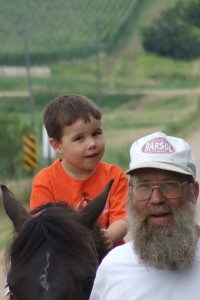 This is Pete asking Uncle Doug if Chester knew how to go fast. You can see a video of Chester going fast here.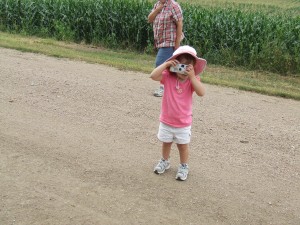 Elsie was taking pictures just like Mommy.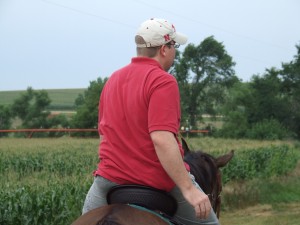 Mike did a great job riding Chester.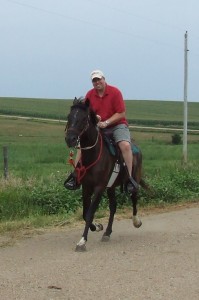 Like Father, like Son…Mike had to go "fast", too.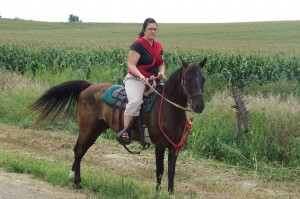 I look a bit like a Narnian warrior. I have on a Moby Wrap which Tess was in until I got on the horse. I decided it wasn't best to ride a horse while having a baby strapped to you. I should get an award.
Pete at the end of the day.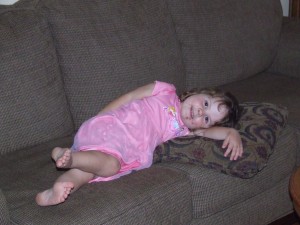 And Elsie at the end of the day.