If for some reason I wasn't a wife or mother I would have a career as a party planner. There is almost nothing in the entire world that gives me as much pleasure as planning a party. I don't care if it's friends coming over for wine and cobbler (wink, wink) or a sit down dinner with umpteen courses. I love the planning of it.
This weekend is the last weekend for two of the families involved in our Community Dinner group before they move. I am planning a BBQ. Now, I know that there is probably nothing less fancy than a BBQ…but then again. If you think that I'm going to have even a BBQ and not let it be fancy, then you might not even know me. I live for FANCY.
I also get excited about lists. And my list for this weekend has 4 pages front and back on a legal pad of sketches and articles clipped out of magazines and "Honey-Do" lists. I've got a great honey. This morning I made a sketch of our backyard so I would know where I'm going to put tables and lighting and chairs and candles and food. I drew a sketch of the serving table and how I'm going to arrange things. I made a mad list of everything I want done, from hanging Christmas lights to trimming bushes to throwing all the baby bikes and such into the garage.
I found these great decorations at Target when I went last night. They're from Isabelle de Borchgrave's Botanical collection.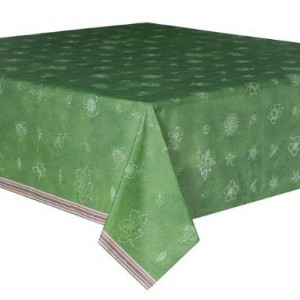 That's the table cloth. I also got a runner and some gift bags for a treat at the end of the evening and napkins. The best part? It was 75% off. Yay! I thought that getting the plates would be overkill on that pattern, so I got off white plates.
I found this board, for lack of a better term, in the top of our garage and it's this primitive, distressed looking green-painted long board. I'm planning on serving off of it. On the one hand, it needs legs and sawhorses would do the trick, but I don't really want saw horses at my party. On the other hand, if it's either saw horses or not having a table, I'll go with the sawhorses. I suppose that the table cloth would cover it.
I'm making Margaritas from scratch and serving them in a great sun tea jar with a spout on the end. I was going to get Cointreau, but it's $40 a bottle. Yikes! I'll stick with Triple Sec and hope for the best. I did get a nicer Tequila. Hopefully it will make up for the Triple Sec. I'll have salt for the rims, and I personally can't wait to try one.
Margaritas
1 1/2 ounces tequila blanco, 100% agave
1 ounce freshly sqeezed lime juice
1/2 ounce Triple Sec/Cointreau
1. Combine tequila, lime juice, and Triple Sec, and stir together.
2. Rim a rocks glass with salt (optional) by pressing the glass into a wet paper towel, then dipping it into a plate of salt.
3. Serve on the rocks.